M & M's Tasty Treats
Ask Us About Our Rewards Program & How To Get Free Food
I Scream. You Scream. We All Scream for Ice Cream!
FEEL LIKE A KID AGAIN AT OUR MOBILE SHAVED ICE & ICE CREAM SHOP IN MIDLAND, TX
Everyone deserves a sweet treat every now and then. Indulge your sweet tooth at M & M Ambitions LLC's shaved ice truck, M & M's Tasty Treats. Our mobile ice cream shop serves chocolate, strawberry and vanilla cones along with tempting shaved ice and other sugary desserts.
Get your sugar fix at our shaved ice truck located in Midland, TX today.
Get lost in our world of desserts and snacks
Did your child bring home straight A's? Are you celebrating a major victory at work? Good times deserve equally delicious treats, and our ice cream shop is chock full of them. We serve sweet desserts and savory items, like:
Shaved Ice

Mexican Antojitos

Novelty Ice Cream

Ice Cream Pops

Popsicles 

Hawaiian Shaved Ice

Corn in a cup

Elote En Vaso

Sno-Balls

Hot Cheetos and Cheese

Elote Chorreados

Hot Cheeto Elote

Hot Cheeto Locos

Dorilocos

Snow Cones

Fresas Con Crema

Strawberrys and Cream

Nachos

Mangoneadas

Pickle Heaven

Lemonade

Strawberry Lemonade

Cherry Lemonade

Blueberry Lemonade

Mexican Cokes
M & M's Tasty Treats is located in the Lowe's parking lot in Midland, TX. Stop by today!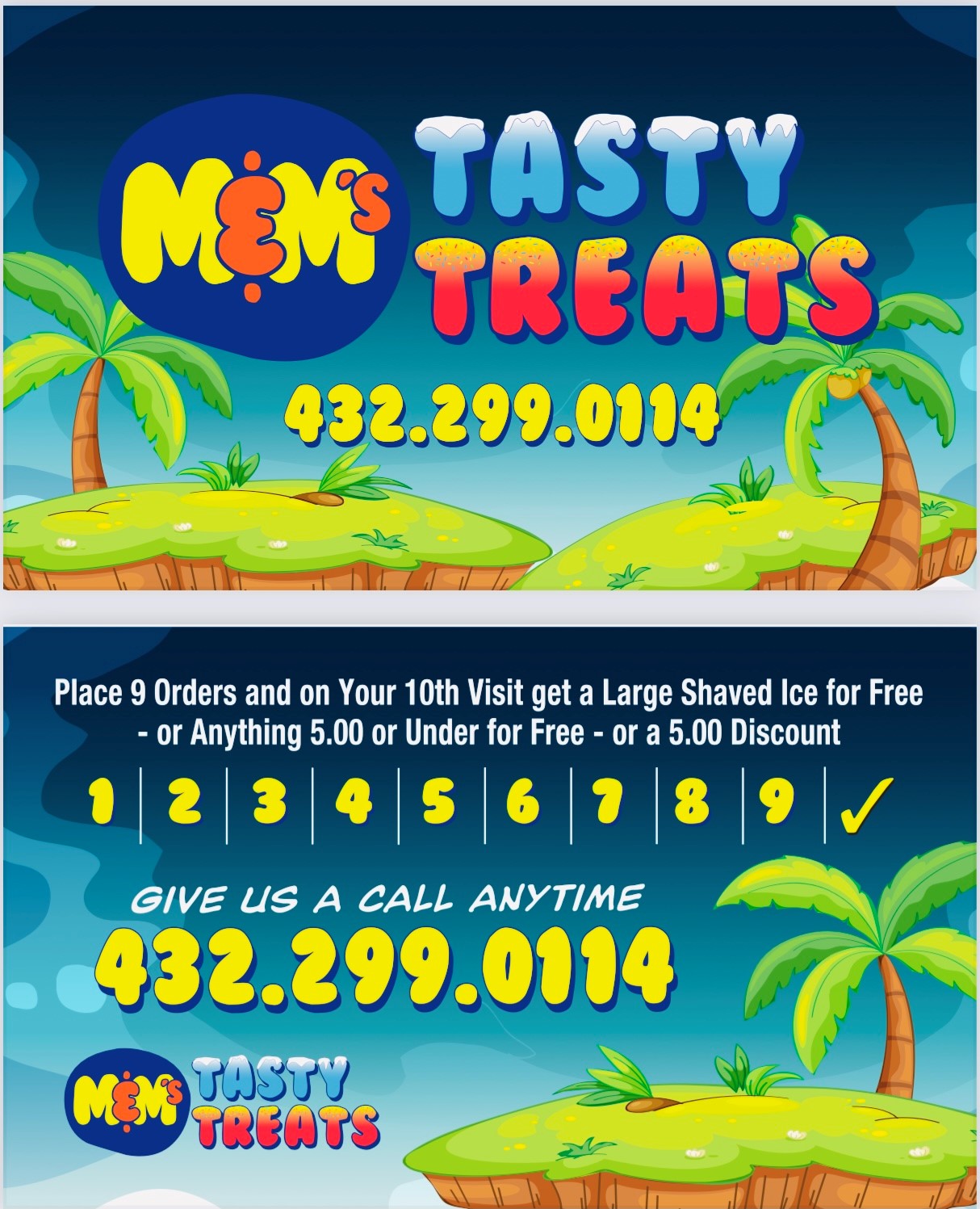 Our Rewards Program
SIGN UP TODAY BY SEEING AN ASSOCIATE